Sponsor a Challenge
The NC3Rs is inviting submissions from organisations that would like to sponsor new CRACK IT Challenges. Please read the guidance below for further information on how to submit your idea or contact the CRACK IT team at crackitenquiries@nc3rs.org.uk. The deadline for submissions is Friday 16 February 2024.
Challenges come from industry, academia and the charitable sectors. As Sponsor of a Challenge you will gain early end-user input to the development of new technologies that will deliver 3Rs, scientific and business impacts to your organisation and the wider scientific community.
As Sponsor you must be able to provide in-kind contributions and/or funding to support your Challenge. Contributions can include access to compound libraries, expertise, in-house studies for validation of prototypes and co-funding. See current Challenges for examples of in-kind contributions provided in previous competitions and the Sponsor roles and responsibilities document for more information. 
A Challenge should be a call for a product, technology or process that:
Will have a significant impact on the 3Rs.
Is innovative and breaks new ground in areas where technologies would improve science and business.
Adds value or accelerates the availability of technologies.
Brings in new audiences/technologies.
Has wide applicability/leads to step change.
Ideally has significant commercial potential.
Is focused on developing and leveraging new technologies into broader use across the bioscience sector.
Is clearly defined so that the scope and endpoints are understood.
Has defined deliverables so that applicants and assessors are clear as to what is expected from the Sponsors.
Has scope for Sponsor in-kind contribution that brings genuine added value to the collaboration.
If your Challenge proposal is selected: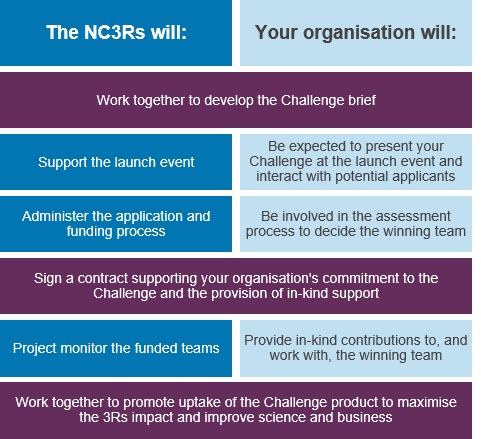 How to submit your Challenge
Assessment process
Challenge submissions are considered by both independent scientific experts and the CRACK IT Advisory Panel, who will take the following criteria into consideration prior to making their final recommendations:
Level of 3Rs impact.
Scientific quality.
Commercial potential/potential for broad uptake of the technology.
Level of Sponsor input (e.g. co-funding, in-kind contributions, potential for co-Sponsors).
Alignment with current NC3Rs portfolio and external activities.
Low risk of Challenge not being solved.
Time to impact.
Dates and deadlines
2024 Challenges
Event
Date
Deadline for Challenge submission 
16 February 2024
Notification of Challenge selection 
April 2024
Deadline for Challenge Brief completion
June 2024
2024 Challenges Announced
July 2024
 
Two Phase Challenges
Single Phase Challenges
Challenges Launch event
September 2024
September 2024
Phase 1 application deadline
24 October 2024
-
Single Phase application deadline
-
31 October 2024
Phase 1 Review Panel meeting
November 2024
 
Single Phase Review Panel
 
November 2024
Single Phase Challenge Panel
 
January 2025
2023 Challenges 
| Event | Date |
| --- | --- |
| Deadline for Challenge submission | 8 March 2023 |
| Notification of Challenge selection  | April 2023 |
| Deadline for Challenge Brief completion | June 2023 |
| 2023 Challenges Announced | August 2023 |
| Single Phase application deadline | 2 November 2023 |
| Single Phase Review Panel | November 2023 |
| Single Phase Challenge Panel | January 2024 |
| Phase 2 application deadline | June 2024 |
| Phase 2 Challenge Panel meeting | July 2024 |