Hard copy | Tool
Grimace scale: Rabbit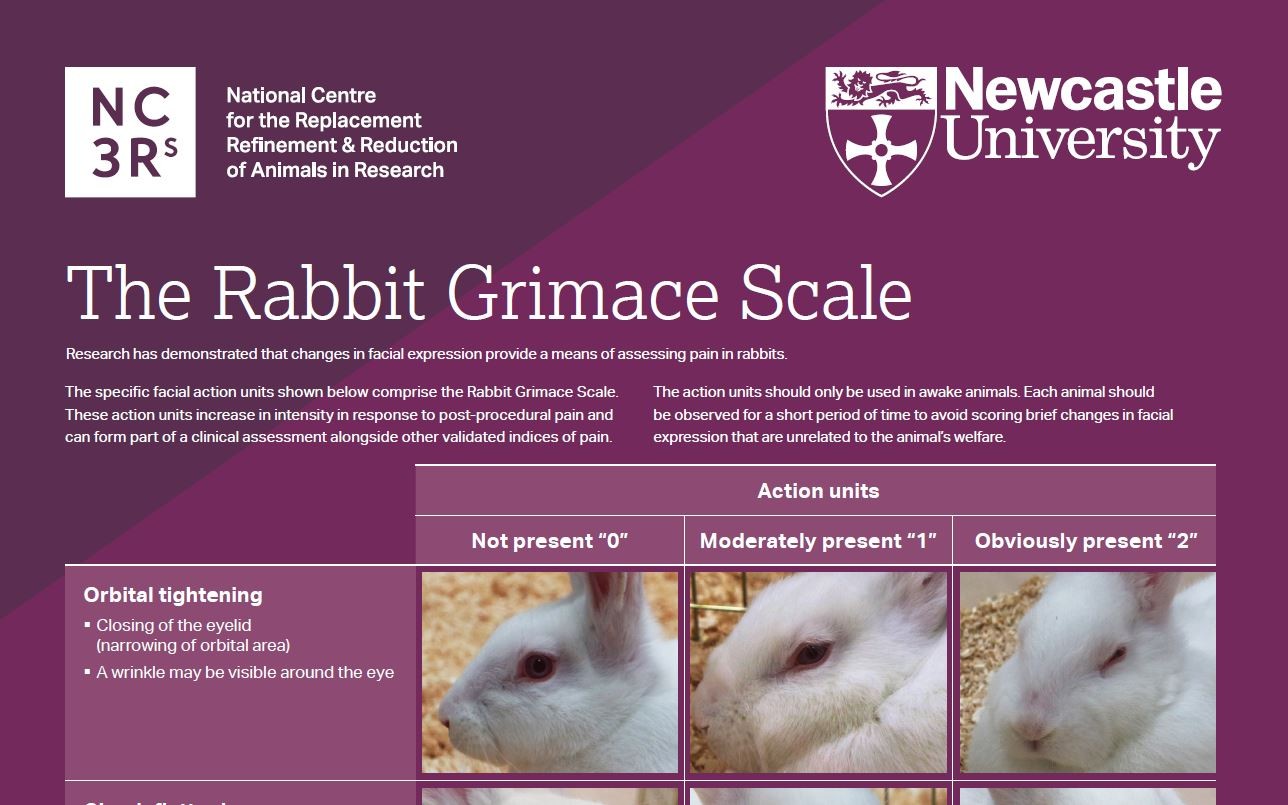 Research has demonstrated that changes in facial expression provide a means of assessing pain in many laboratory species. 
With funding from the NC3Rs, Dr Matthew Leach, Newcastle University, demonstrated that these facial action units increase in intensity in response to post-procedural pain, and could therefore be used as part of a clinical assessment; he also developed a rabbit grimace scale. Grimace scales have since been developed for other species.
We have produced a poster featuring the rabbit grimace scale to help familiarise staff with the specific facial action units, and encourage their implementation as a means of welfare assessment.
The action units should only be used in awake animals. Each animal should be observed for a short period of time to avoid scoring brief changes in facial expression that are unrelated to the animals welfare.
Read the original paper
Keating SCJ et al. (2012) Evaluation of EMLA cream for preventing pain during tattooing of rabbits: Changes in physiological, behavioural and facial expression responses. PLOS ONE 7(9): e44437. doi:10.1371/journal.pone.0044437 
Available posters
We have copies of The Rabbit Grimace Scale poster in a number of languages: English, French, Portuguese, Chinese and Japanese.
Whilst we have previously been able to send hard copies of these posters around the world, we are currently unable to do so due to COVID restrictions.
Therefore we are now able to offer downloadable copies, subject to the T&Cs outlined below.
Download terms and conditions
The proper use of a grimace scale poster requires each of the facial action units to be clear and easily discernible. They therefore must be printed by a professional print service at the full A3 size. Further guidance is included in the cover page which should not be removed from the PDF file.
Any requests to reproduce this poster, or to include it in any publications or training materials, should be directed to enquiries@nc3rs.org.uk. You should include how, why and where the poster will be used so that we can consider your case for approval. It is helpful to include any associated text, so we can see the context in which the poster will be put.
Copyright notice: These posters and their content are owned by the NC3Rs and its partners. The poster should not be adapted, and the content should not be sold or used to generate income.
Papers that have validated this technique
Hampshire V and Robertson S (2015). Using the facial grimace scale to evaluate rabbit wellness in post-procedural monitoring. Lab Animal 44(7): 259-260. doi:10.1038/laban.806 
Raillard M et al. (2019). Anaesthetic and perioperative management of 14 male New Zealand white rabbits for calvarial bone surgery. Animals (Basel) 9(11). doi:10.3390/ani9110896
Miller AL et al.  (2022). Evaluating pain and analgesia effectiveness following routine castration in rabbits using behavior and facial expressions. Frontiers in Veterinary Science 9: 782486. doi: 10.3389/fvets.2022.782486
Read more about why the grimace scales were developed, and download the scales for use with mice and rats.