Blog
Impressions from Pint of Science 2017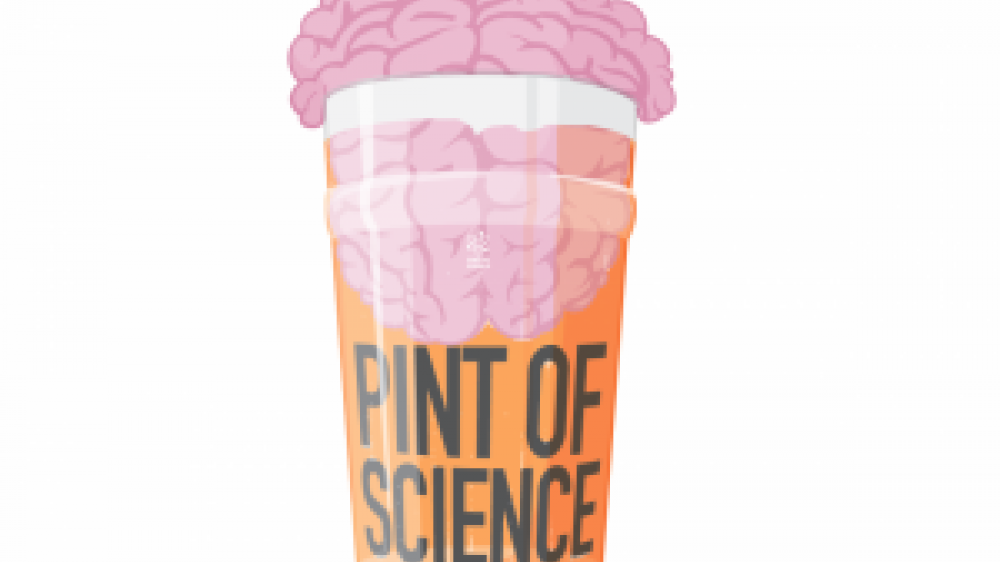 The NC3Rs has sponsored four events during this year's Pint of Science festival, where researchers took over pubs across the UK to speak about their work. 
The festival took place two weeks ago and some of our staff went along to hear the great talks about recent advances in 3Rs-related research, much of which if funded by the NC3Rs. You can read their impressions below.
Glasgow: The building blocks of the brain 
The Glasgow event was attended by Dr Sam Jackson, NC3Rs Programme Manager for disease models, efficacy and safety pharmacology:
The event took place at The Hug and Pint, a vegan bar, eatery & music venue in Glasgow's west end. The bustling room played host to three researchers talking about their fascinating work in neuroscience.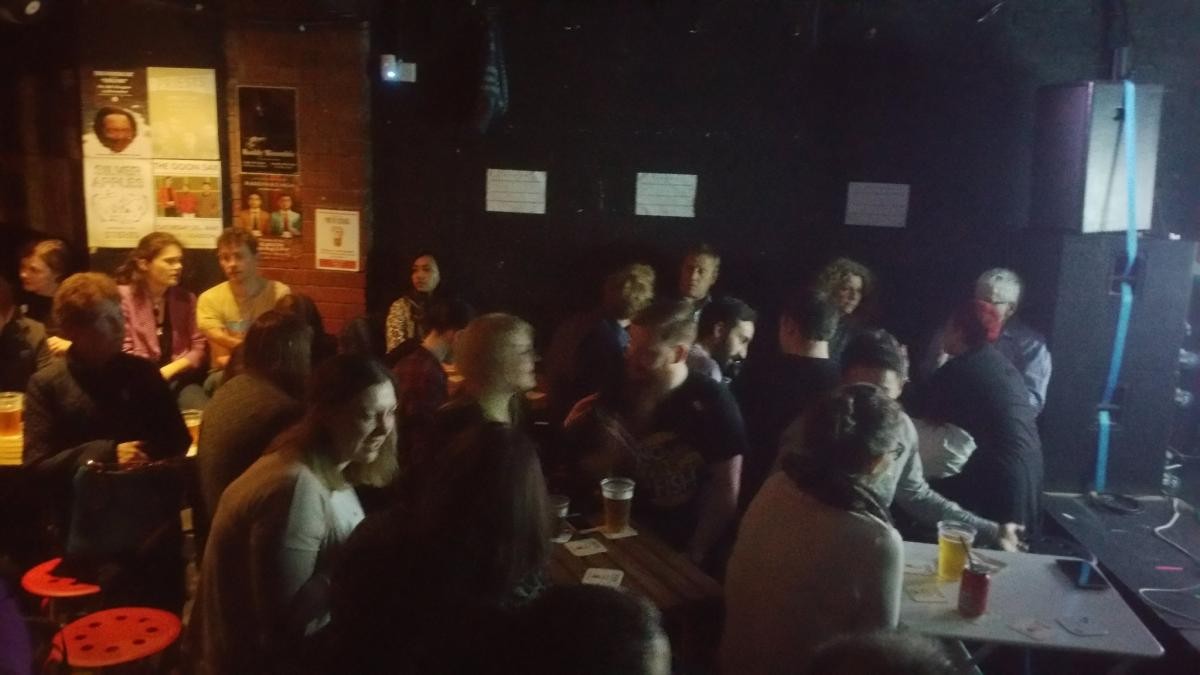 Pint of Science event in Glasgow
Professor Sue Barnett from the University of Glasgow described her work on repairing the myelin sheath, a fatty nerve covering which can become damaged and cause symptoms in diseases such as multiple sclerosis. Many studies in this area have traditionally used animals but Sue has developed in vitro models using cells from patients.
Dr Mathis Riehle, also from the University of Glasgow, talked about developing new therapies and scaffolds to help repair severed nerves and restore feeling and sensation, using neuron cultures in vitro.
Following an entertaining quiz about the brain, Graham Robertson from the University of Strathclyde rounded off the evening by showing the audience how he uses a combination of engineering and biology skills to study the nervous system using microfluidic chip technology. 
London: Happy animals, good science
The London event was attended by Dr Viki Hurst, NC3Rs Science Manager for experimental design:
I was very excited to attend my first NC3Rs-sponsored Pint of Science event and was not disappointed! First speaker on the night was Dr Jane Sosabowski from Queen Mary University of London who provided an introduction to research with animals and the 3Rs. She spoke about applying the 3Rs in her own work on non-invasive monitoring of tumours in mouse models of cancer.
NC3Rs David Sainsbury Fellow, Dr Alessio Vagnoni (pictured) from King's College London, spoke about neuronal ageing. Instead of traditional mammalian models, he studies the processes in the fruit fly.
The atmosphere of the event was great, with a vibrant discussion and engaged questions from the audience following each talk. I was also very pleased to win the 'Pint of Science' pint glass for my team's efforts in the science quiz. 
 
Dr Alessio Vagnoni
Oxford: Brains and Behaviour
The Oxford event was attended by Dr Mark Prescott, NC3Rs Head of research management and policy, and Dr Samuel Brod, NC3Rs Science Manager for animal welfare and policy, who shares his impressions below:
First to speak was Dr Oliver Britton from the University of Oxford's Department of Computer Science. He enthusiastically described his work creating computer-based models of the human heart that allow researchers to better understand the cause of abnormal heart rhythms and the circumstances leading up to a potentially fatal heart attack. His group's work, demonstrated through use of the mini-computer Rasberry-Pi (see image), will also help predict the safety of new drugs for the heart, replacing the need for animal models.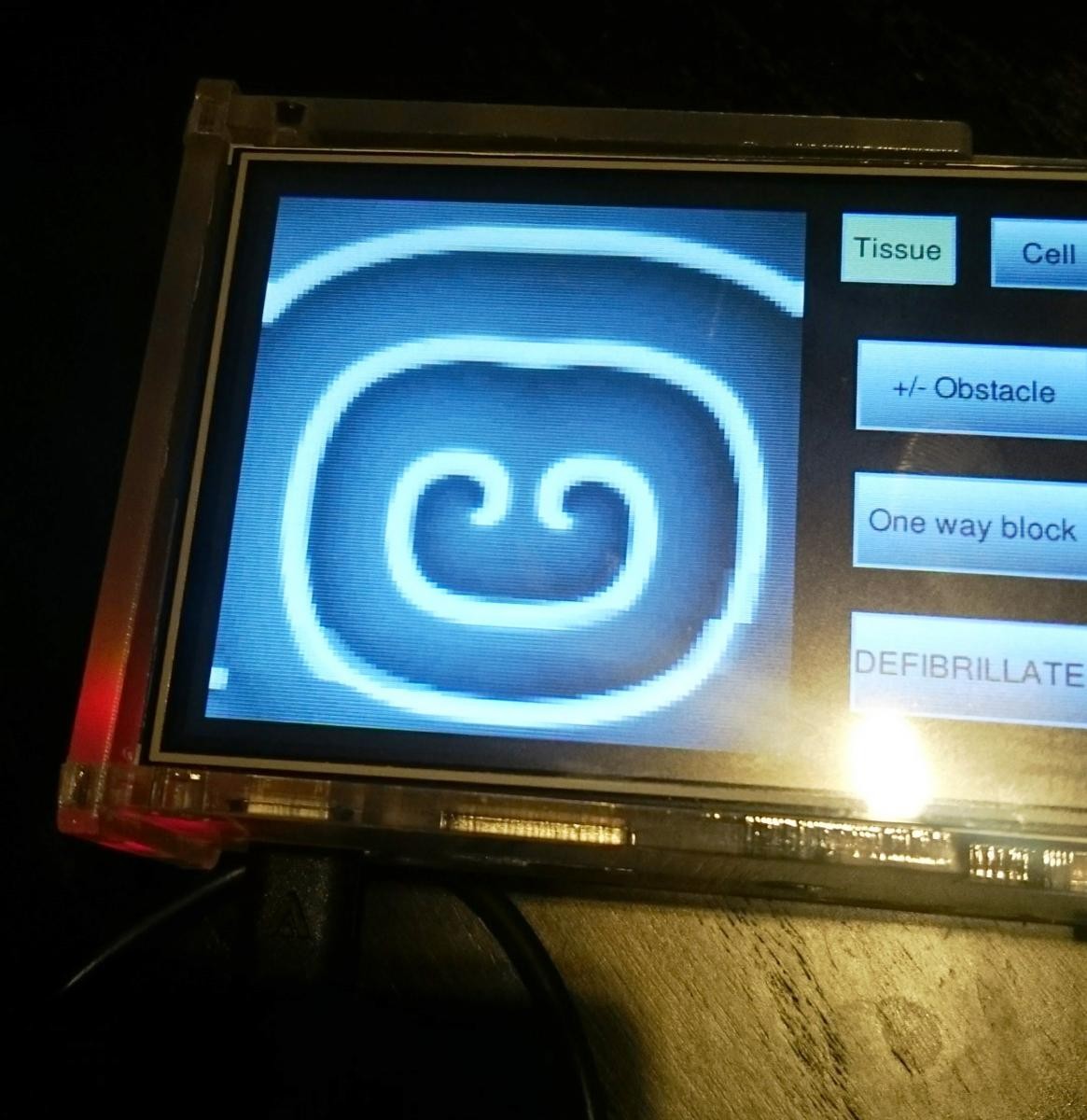 Dr Sara Wells (pictured), Director of the Mary Lyon Centre at MRC Harwell presented a popular talk on the secret lives of lab mice. Using a 24/7 digital monitoring programme, named Rodent Little Brother. Sara's team have discovered previously unseen behaviours in the animals such as changes in their nocturnal activity and the gifting of food between rodents. By using this technology to monitor subtle changes in behaviour, movement and social interactions the work of Sara's team provides opportunities to refine studies.
In the intervals the audience was entertained by a particularly tricky quiz on neurobiology, the prize (the perennial Pint of Science glass) was well earned! 
 
Dr Sara Wells (Source: Twitter)
Sheffield: Alternatives to Research Requiring Rodents
The Sheffield event was attended by Dr Kasia Makowska, NC3Rs Press and Communications Officer:
The event took place in a microbrewery, getting some curious looks from the beer-tasting tours. Dr Enrico Dall'Arra from University of Sheffield spoke about using a computer model, or a 'digital mouse', to better understand the mechanisms behind bone-related diseases. He showed how the computer modelling can allow for more accurate measurements, improve translation to humans and reduce the number of animals used in musculoskeletal research.
Kinga Kosim and Sindhu Naik, PhD Students in Biomedicine and Engineering, gave an interesting talk about the potential of using organs-on-chips as human-relevant disease models.
Last but not least, Professor Steven Renshaw from the Bateson Centre spoke about the benefits of using non-mammalian models such as zebrafish larvae. He showed some impressive imaging of the larvae and how they can be used in a variety of assays, to study development, gene activity, behaviour and more.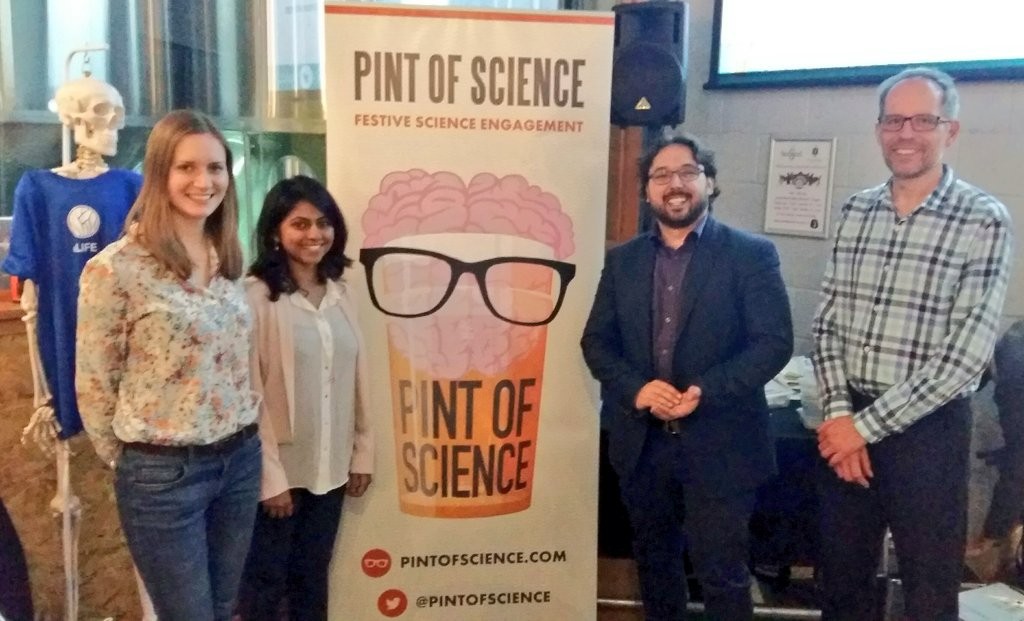 Speakers at the Sheffield Pint of Science: Kinga Kosim, Sindhu Naik, Dr Enrico Dall'Arra and Professor Steven Renshaw (source: Twitter)
All talks were followed by rounds of great Q&As. In the intervals, the audience was entertained by hands-on presentations, science busking, and a scientific quiz with prizes! 
We would like to thank all the speakers and organisers involved for doing a fantastic job. We are already looking forward to Pint of Science 2018!