News
More evidence published supporting the use of tunnel handling in mice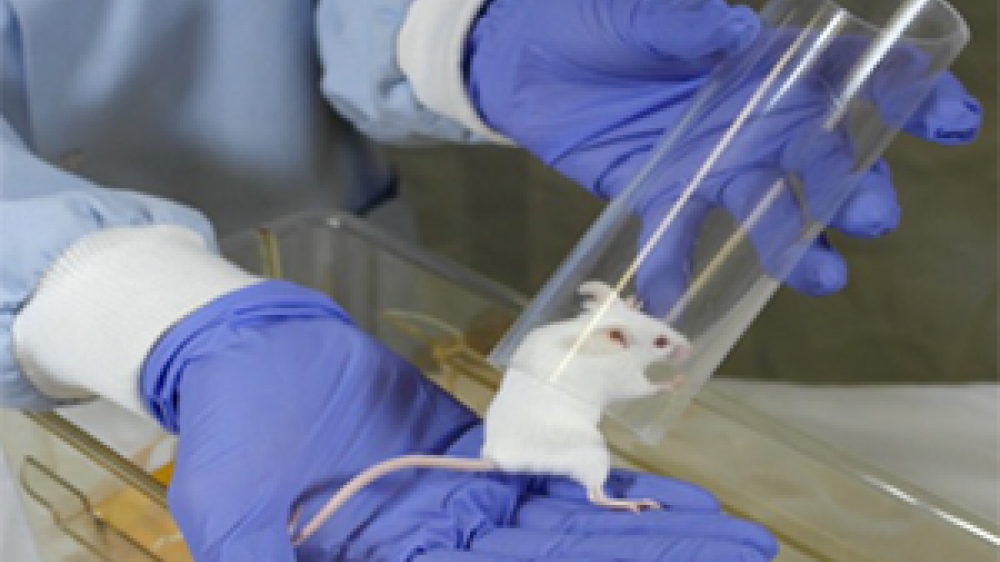 Picking up mice by the tail is a major source of stress that induces strong aversion to the handler, whereas mice handled with a tunnel or cupped hands exhibit low stress and anxiety and actively seek interaction with their handlers. 
New research funded by the NC3Rs and published in Scientific Reports shows that mice who are tunnel handled continue to experience positive welfare benefits even when undergoing repeated immobilisation and subcutaneous injection.
The research was conducted by Dr Kelly Gouveia, previously an NC3Rs-funded PhD student, and Professor Jane Hurst of the University of Liverpool, who was awarded an OBE for services to animal welfare in the 2020 New Year Honours list.
Gouveia and Hurst investigated the effect of immobilisation and subcutaneous injection (a mild procedure) on how mice responded to different handling methods. To examine the impact of immobilisation, mice were picked up by either tail, tunnel or cupping, then scruffed from the cage lid and restrained for 10 seconds before being returned to their home cage. This process was repeated over five days. To examine the impact of subcutaneous injection, mice previously familiarised with tail or tunnel handling experienced either handling alone or handling with scruff restraint and saline injection. Six weeks later, mice in the injection groups were given daily saline injections for four consecutive days.
Tunnel-handled mice continued to interact just as readily with handlers after both repeated immobilisation and repeated subcutaneous injection, as well as continuing to show low anxiety in the open field test. In contrast, tail-handled mice displayed as much aversion and anxiety when they were only picked up by the tail as when they were also immobilised and injected. This indicates that the method used to pick up mice prior to these laboratory procedures has a greater influence on their anxiety and assessment of threat than the experience of the procedure itself.
Gouveia and Hurst also investigated how handling method, duration and frequency affected handling-induced aversion and anxiety. They found that changing the amount of time for which animals were held once picked up had very little effect on aversion or anxiety in the 2-60 second range studied. Brief handling, as required to transfer mice between cages (~2 seconds), was sufficient to familiarise mice with tunnel handling, even when they were only handled at fortnightly cage cleans. Brief but more frequent handling was required to familiarise mice with being handled with cupped hands, while mice picked up by tail showed strong aversion and anxiety even when handled only briefly, regardless of the frequency.
This work reaffirms that tunnel handling is a highly feasible method for minimising aversion and anxiety, as mice can quickly become familiarised with it in the course of standard cage cleaning protocols. Conversely, picking up mice by the tail should be avoided as far as possible, even for short lifts.
These new findings address perceived barriers to the implementation of non-aversive handling methods and add to the substantial evidence base supporting them as a simple way to significantly improve mouse welfare. Background stress and anxiety can be confounding factors in many areas of scientific research, so minimising such responses through refinements like non-aversive handling can also reduce variability and thus improve the reliability of data generated. Recognising the benefits for animal welfare and science, many UK establishments have now switched to tunnel handling or cupping as part of their commitment to the 3Rs and a culture of care.
For support with implementing non-aversive mouse handling methods, including video tutorials and frequently asked questions, visit our How to pick up a mouse hub.
References
Gouveia K, Hurst JL (2019) Improving the practicality of using non-aversive handling methods to reduce background stress and anxiety in laboratory mice. Scientific Reports 9: e20305. doi:10.1038/s41598-019-56860-7