Blog
NC3Rs/BHF Studentships – advancing cardiovascular science with 3Rs methods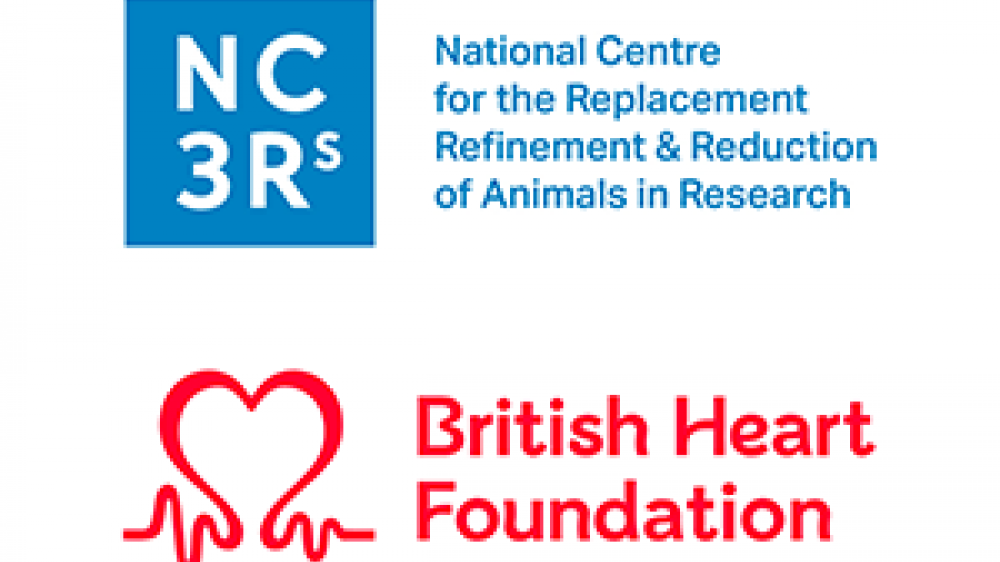 This year's PhD Studentship call is now open. To mark this we are highlighting some of the scientific and 3Rs impacts from our earliest awards made in collaboration with the British Heart Foundation (BHF). 
To date we have co-funded 12 PhD Studentships with the BHF, a total of £1.08 million, covering a wide range of cardiovascular science. Each project supports scientific discovery, which will benefit patients and reduce reliance on animal models.
Below, we highlight two of the PhD Studentships supported through our collaboration with the BHF and how to apply for an NC3Rs/BHF PhD Studentship.
---
Modelling abdominal aneurysms in human umbilical arteries
Dr Jason Johnson, University of Bristol, was awarded funding to replace mouse models of abdominal aortic aneurysms by developing an ex vivo human model of aneurysm development, progression and rupture using arterial conduits from human umbilical cords.
 
Ex vivo human model of aneurysm using umbilical arterial conduits

Scientific benefits

Recapitulates four clinical features of aneurysms:

Loss of elastin
Loss of collagen
Increased vessel size
Decreased number of vascular smooth muscle cells

The umbilical cord contains two arteries, which allows paired statistical analysis as part of the experimental design.
 

Pathological signs of aneurysm can be reversed by administering compounds known to inhibit aneurysms in mouse models.

3Rs benefits

Replacement of AAA mouse models, where 15 to 20% of mice will experience a ruptured aneurysm and potential sudden death before experiments can take place.

Practical benefits

Aneurysm development and experiments can be conducted in seven days compared to four weeks in mouse models.
 

Umbilical cord classed as a waste tissue so simple ethical procedure to obtain tissue.
 

Arterial conduits can be sustained using endothelial cell media in a bioreactor in standard cell culture incubators.
Ruptured aneurysms account for 2% of all deaths in the UK. Currently, there are no treatments other than preventative surgery. Many mouse models of aneurysm formation (genetic and surgical) have been developed for research. Animals with induced AAAs can suffer from aortic dissection and subsequent sudden death. Additionally, patients are seen at a later stage of disease than these models reproduce, meaning that they have limited clinical relevance.
Rosaria Bianco, the PhD Student, established an ex vivo model of aneurysm using arterial tissue from human umbilical cords, grown in a bioreactor. The tissue is maintained in endothelial cell media and subjected to flow conditions, which simulate blood flow through the abdominal aorta. An aneurysm forms when the tissue is supplemented with angiotensin II. Rosaria has demonstrated that this model displays our key characteristics used to classify aneurysms in humans and in mouse models. Rosaria has validated the model using an inhibitor of MMPs, proteases that promote abdominal aortic aneurysms in mice, with the data obtained replicating historic murine data from Jason's laboratory.
Rosaria and Jason have presented at five national and international conferences, including the Frontiers in Cardiovascular Biology meeting where Rosaria was a Finalist for the Young Investigator Award. Jason was also featured in an interview on the European Parliament Science Media hub, where he described the project as part of a wider programme featuring ex vivo and in vitro research that can replace animal models.
Jason has been awarded over £1M in further funding from the BHF as a Senior Research Fellow where the ex vivo model will form part of a research pipeline to assess potential therapeutics before any exploration in vivo. Rosaria is now working as a postdoctoral researcher on one of the projects. Rosaria and Jason are in the process of drafting an article for the NC3Rs Gateway, which will describe the detailed methodology and analysis of the model.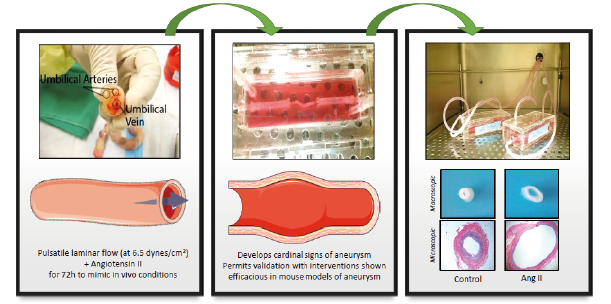 Development and characterisation of a novel human ex vivo model of aneurysm (image provided by Dr J Johnson)
---
In vitro occlusion clot formation
Dr Matthew Harper, University of Cambridge, was awarded funding to reduce animal use in thrombosis research by developing an alternate in vitro model.
 
Microfluidic occlusion clots

Scientific benefits

Clots produced fully block the channel allowing more clinically relevant studies in vitro than has been possible before.
 

Use of human blood ensures anti-thrombotics are tested on cells with receptors that are key for thrombosis formation (as mouse cells in thrombosis express PAR3 whereas human cells express PAR1).
 

Quenching ensures artefacts of the in vitro system do not impede the physiological relevance of the clot.

3Rs benefits

Replaces the carotid artery model, where the carotid artery is injured in a terminally-anaesthetised mouse to induce thrombosis.

Practical benefits

The lithography template files needed to make the microfluidic chip will be made publicly available once the model is published.
 

Reduced costs of system in comparison to the need to house animals.
 

Potential to use the model for drug screening at higher throughput then would be possible in mice.
Clot formation (thrombosis) is the major acute event that triggers a heart attack or a stroke. It is a complex process involving many different cell types and is influenced by blood flow and vessel geometry making it difficult to model in vitro. Mouse models of arterial thrombosis, where the carotid artery is injured under general anaesthesia, are extensively used but these models have high experimental variation increasing the number of mice that must be used to obtain sufficient statistical power to detect a biologically relevant effect.
Jess Berry, the PhD Student, has designed a novel vascular microfluidic chip to model thrombosis and clot formation in vitro using human cells. Typically, a build-up of pressure in microfluidic models of this nature prevents the occlusion of the channel. The chip developed as part of this project includes multiple branches, preventing the build-up of pressure and allowing an occluding clot to form completely in one channel. Jess has further developed the system to mimic the in vivo setting by introducing a quenching agent immediately after the occlusion site. This prevents the development of artefact clots, a common problem with in vitro systems and blood without anticoagulants. For the remainder of her Studentship, Jess will be using the model to analyse clot structure and kinetics of formation. She will also use it to test anti-thrombotics, which previously could only be tested in the carotid artery model in the mouse.
As a result of Jess' project, Matthew is no longer developing in vivo models of thrombosis in his laboratory and all experiments will be conducted in vitro.
---
How to apply for an NC3Rs/BHF PhD Studentship
Awards are £30k (non-FEC) per annum for three years.
There is a two-stage process for applications, an informal outline stage and an invited, full application stage. For further information on how to apply and deadlines, please visit nc3rs.org.uk/studentships.
If you have any questions, please get in touch with the NC3Rs Office.