News
Updates to the Experimental Design Assistant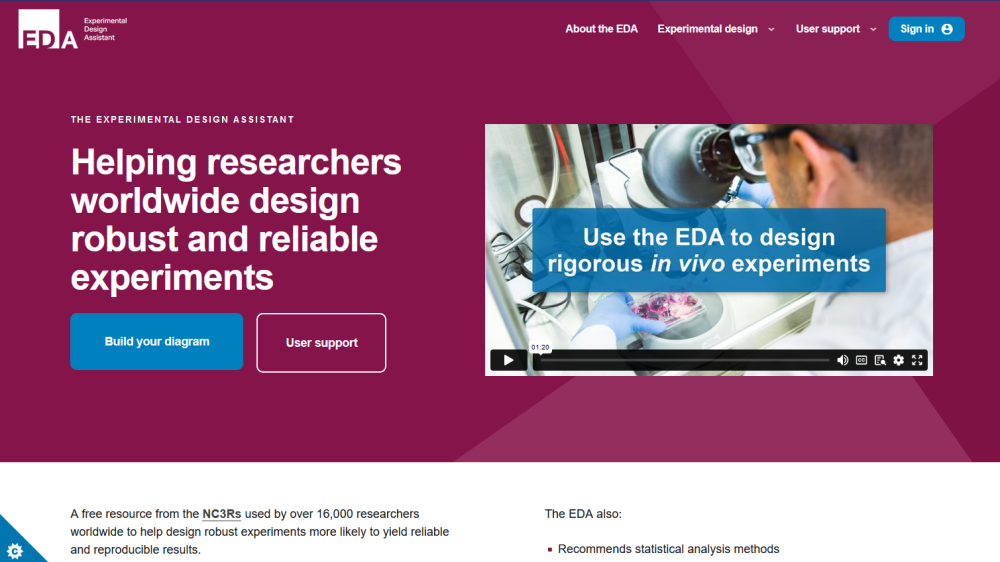 Since its launch in 2015, the Experimental Design Assistant (EDA) has supported scientists to reduce the numbers of animals they use and ensure every animal used in research adds to the scientific knowledge base. Eight years later and now with over 16,000 registered users worldwide, we have added new functionality, made the application easier to use and refreshed the website to help all researchers find the information they need.
The EDA is an online tool that helps scientists to understand and apply experimental design and statistical concepts to their work with animals, helping them to produce meaningful and reliable results. The EDA website has a wealth of experimental design information and guidance. Scientists can use the EDA to build a diagram of their experimental plans and receive bespoke feedback to improve the design of their experiments. The EDA can also: 
Suggest statistical analysis methods appropriate for the experiment.
Perform power calculations and help determine an appropriate sample size.
Generate a randomisation sequence to help with masking/blinding.
Help share experimental plans with collaborators, funders, ethical review bodies and journals.
What changes have we made?
Share by URL/link
Earlier this year we introduced a new way to share experimental plans via the EDA. EDA diagrams are an explicit description of experimental plans making them an excellent way to share comprehensive experimental information with funders and journal editors at a click of a button.  
More accessible and engaging content
We understand that in vivo experiments can be complex to design and analyse. The experimental design pages cover fundamental and applied concepts, from defining your independent variables to implementing masking/blinding and how to choose the right statistical test. We rewrote much of the content across the website to make it more accessible and help scientists at all career stages design robust in vivo experiments. 
Improved navigation
Information is more clearly organised, and we have highlighted related resources and further reading so that everyone can find the advice and information they need. 
The experimental design information pages can be accessed via a drop-down menu, and there are also sections of the website that explain how and why the EDA was developed and support users with demonstrations, examples and advice to get the most out the EDA. 
Streamlined menus
We streamlined the EDA menus to make the application easier to navigate and use. The three main menu items (dashboard, my experiments and templates) are available from anywhere inside the application and the tools needed for building your diagram have been put in a separate menu so they are easier to find when you are creating your experiment diagram. 
Watch our most recent webinar
Recently, our Experimental Design Programme Manager Dr Esther Pearl gave a webinar for the US National Institutes of Health Office of Laboratory Animal Welfare (NIH OLAW) on experimental design principles and the EDA. The webinar is available to watch online and covers how the EDA can help researchers to implement experimental design concepts and communicate their experimental plans clearly to ethical review bodies. Esther also runs regular virtual EDA demonstrations which are now registered with the CPD Standards Office, to ensure that scientists are properly recognised and rewarded for attending experimental design training.  
Create an EDA account to access experimental design and statistical support for your in vivo experiments. 
Create an account to access experimental design and statistical support for your in vivo experiments.