Webinar and video
The impact of 3Rs approaches on quality control and batch release testing of biologicals
The NC3Rs is working with the World Health Organization (WHO) to review animal testing requirements within their guidelines for the quality control and batch release testing of biologicals. Co-funded by the Bill and Melinda Gates Foundation, the aim is to identify opportunities for the wider integration of 3Rs approaches and recommend these for implementation by WHO through the Expert Committee on Biological Standardization (ECBS).
Regional workshops
We are hosting a series of regional workshops to better understand the potential impact of these changes on manufacturers and regulators globally. The output from these workshops will inform the recommendations we make to WHO and reduce the barriers for their implementation by ECBS. 
Europe – Wednesday 2 March 2022 (recordings available below)
Asia - Thursday 28 April 2022 (recordings available soon)
Pan-America – Monday 26 September 2022 (registration open shortly)
Africa and East Mediterranean – TBC
The case for implementing the 3Rs in WHO guidelines
Professor Klaus Cichutek, Paul-Ehrlich-Institut, Germany and outgoing Chair of ECBS.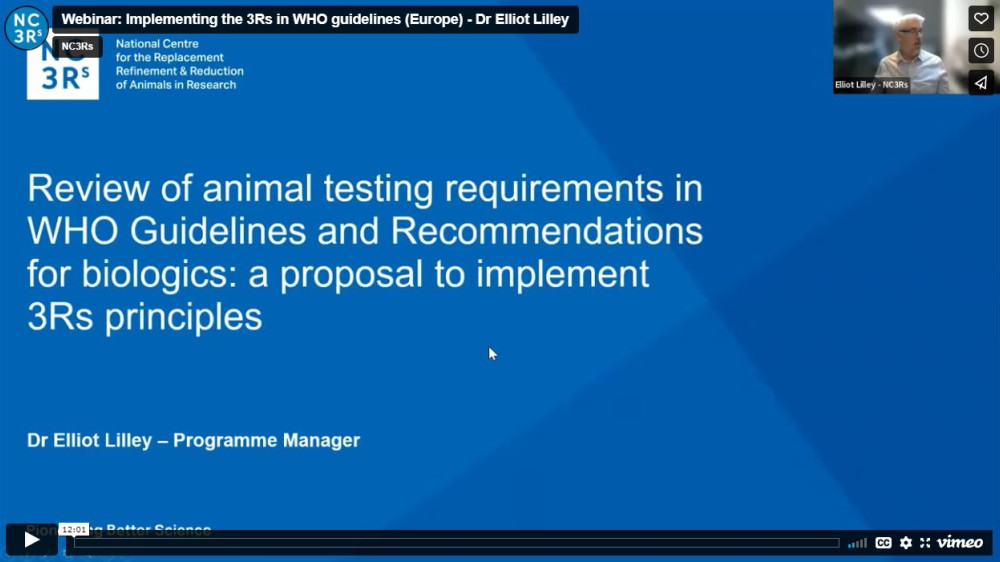 Dr Laurent Mallet, Head of Department of Biological Standardisation, OMCL network & HealthCare.
How aligned are we across Europe?
Dr Volker Öeppling, Head of Section Microbiological Vaccines, Paul-Erlich-Institut.
Dr Geneviève Waeterloos, Sciensano.
Dr Philippe Juvin & Dr Emmanuelle Coppens, Sanofi and representing IFPMA.
Moderator: Dr Svein Rune Andersen, Norwegian Medicines Agency, Norway.
Panellists: Dr Emmanuelle Charton, EDQM, Dr Shahjahan Shaid, GSK, Dr Mark van Ooij, Janssen, Dr Anne Dybwad, Norwegian Medicines Agency, Norway, Dr Geneviève Waeterloos, Sciensano, Belgium, Dr Paul Stickings, NIBSC, UK.