News
New study looks at the impact of fluid restriction on primate welfare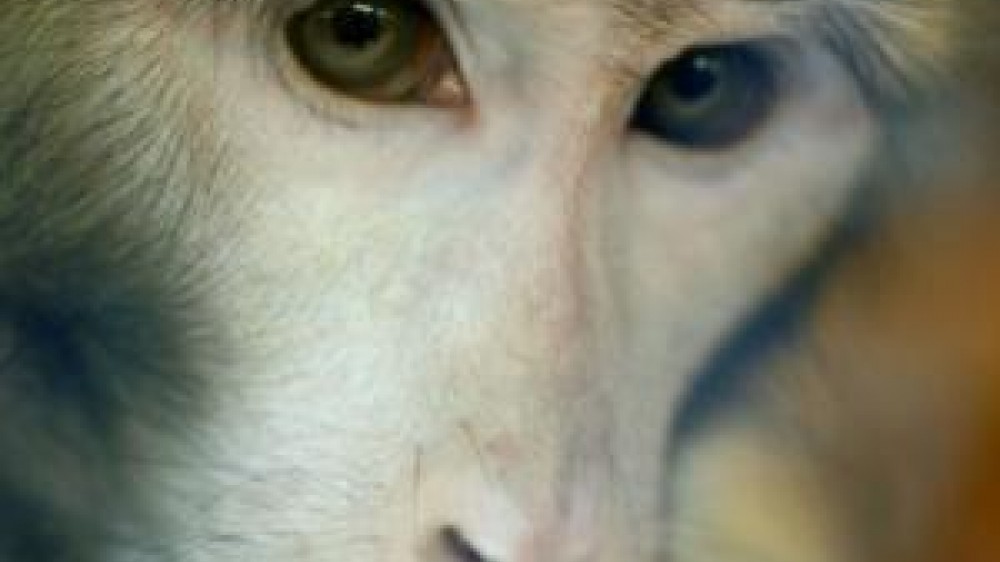 The use of food and fluid control as motivational tools for macaques used in behavioural neuroscience research is an area of longstanding interest to the NC3Rs. 
Typically, performance of correct trials on cognitive or behavioural tasks is rewarded with small amounts of food or fluid. To motivate adequate daily performance (for example, to achieve a specific and consistent number of trials), the monkey's access to free food or fluid is scheduled to certain parts of the day (e.g. after testing), or the daily amount of food or fluid available to the monkey is reduced.
New paper from NC3Rs-funded work exploring impact of fluid control on animal welfare
A new paper published this week in eNeuro reports the effects on animal physiology, behaviour and task performance of different fluid control protocols in rhesus macaques. The research was led by Ms Helen Gray, Newcastle University, as part of her NC3Rs-funded PhD studentship. It specifically addresses one of the research gaps identified by an NC3Rs working group, which published an extensive review of this topic in 2010.
The study compared fluid control for five days per week (with free access to water on weekends) to fluid control for seven days per week (with access to a controlled amount of water on weekends) and a control condition of free access to water. This work is important, despite the obvious limitation of a small sample size (four adult male rhesus macaques), because there is a severe lack of objective and quantitative data on the impact of these protocols on animal welfare.
Impact of fluid control on physiology and body weight
The monkeys were able to adapt physiologically to restriction of water (14-26 ml/kg/day) by concentrating their urine to retain fluid. Blood measures of hydration were the same in animals across the three conditions and within normal ranges from other colonies published in the literature. It should be noted, however, that the finding of normal values within an individual monkey is not a guarantee of the animal's health, merely its physiological status, and that it is important for routine monitoring by animal care and veterinary staff to continue.
Monkeys on the five day protocol (the most commonly used fluid control protocol in the UK) lost a small amount of weight during the working week and regained this at the weekend once free access to water was returned. As has been reported previously, monkeys on such protocols can maintain or gain weight (grow normally) in the long-term.
Interpreting behavioural changes
The impact of fluid control on behaviour was less clear. Some of the observed behavioural changes may be indicative of reduced welfare during fluid control compared with free fluid access (e.g. increased stereotypic pacing in one animal); others suggest the opposite (e.g. reduced body shaking and yawning). More research on the impact of these protocols on psychological well-being is required, including involving experts in macaque behaviour. Approaches such as cognitive bias testing could help gain insight into how the monkeys feel, which is key to their welfare.
Is seven day fluid control better?
It is clear that thirst is a powerful motivator and that monkeys will work harder (complete a larger number of trials) on Mondays if fluid is limited over the weekend. This could potentially reduce the duration of the experiments the monkeys are part of and the number of months they spend on fluid control. Whether this is desirable from a welfare perspective requires further research, as long-term controlled fluid for seven days per week could be detrimental.
Next steps
This study provides important insights into the impact of fluid control on macaques used in neuroscience studies. The sample size is small and it will be important to explore how more data could be collected from ongoing studies in other neuroscience laboratories, to help to confirm the findings as well as identify other opportunities for refinement.
References
Gray H, Bertrand H, Mindus C, Flecknell P, Rowe C, Thiele A (2016) Physiological, behavioral, and scientific impact ofdifferent fluid control protocols in the rhesus macaque (Macaca mulatta). eNeuro DOI: http://dx.doi.org/10.1523/ENEURO.0195-16.2016