Key information about applying for a Project grant
Scheme at a glance
A Project grant is a research project which supports the development of new 3Rs approaches and technologies. Applications from any area of medical, biological or veterinary research are within remit – those that integrate a range of disciplines or include an industrial partner are particularly encouraged.
The amount requested should be dependent on the science. Awards are for up to 36 months and funded at 80% of the full economic cost (fEC).
Key dates
Please note the NC3Rs Funding team will be unavailable from 15 December 2023 until 2 January 2024. Should you have any funding queries you are encouraged to contact the Funding team at 3rsgrants@nc3rs.org.uk before midday on 15 December as any queries received within this period may receive a delayed response.
| Key date | Details |
| --- | --- |
| 19 October 2023 | Outline application form available on the new Funding Service (TFS) |
| 16.00, 11 January 2024  | Deadline for submitting outline on TFS |
| March 2024 | Outline assessment meeting |
| Mid-March 2024 | Applicants notified of outcome |
| March 2024 | Applicant workshop for those invited to submit full application |
| 16.00, 18 April 2024 | Full application deadline on TFS |
| July 2024 | Panel meeting for full applications |
| Late July 2024 | Applicants notified of outcome |
| September 2024 | Grant holder introductory meeting |
| 1 October 2024 | Last date for commencing projects |
Please sign up to the NC3Rs newsletter for updates on our funding schemes.
Who can apply?
Establishment eligibility
Any UK research establishment including:
Higher Education Institutions (HEIs).
Independent Research Organisations (IROs).
Research Council (RC) Institutes.
Individual eligibility
Applicants should be UK-based researchers who can demonstrate that they:
Will direct the proposed research.
Will be actively engaged in accomplishing the project's aims.
Hold a graduate degree – the minimum formal qualification required. However, it would normally be expected that an applicant has been awarded a PhD. Applications involving less experienced researchers should be made in collaboration with a more senior colleague.
NC3Rs grant holders with more than 12 months remaining on their NC3Rs grant, at the time of application, are not permitted to apply as a Primary Investigator for further NC3Rs funding (excluding CRACK IT, Skills and Knowledge Transfer and Strategic Awards – please contact the Office to discuss).
Overseas researchers
Overseas researchers cannot be Primary Investigators but can be included as collaborators. Overseas co-applicant status can be obtained in exceptional circumstances at the discretion of the NC3Rs – approval must be sought before applying.
Resubmissions
The NC3Rs does not allow resubmission of previously unsuccessful proposals, unless explicitly invited by the Panel. 
Proposals previously declined by the NC3Rs will not be considered by another Research Council or funder within 12 months (from the date of submission to the original Research Council) unless substantially revised. More information can be found in the NC3Rs Project grant Applicant guidance.
Please note: The same or similar application cannot be considered by any other Research Council, the Health Departments or any other research funder at the same time
How to apply
We are running this funding opportunity on the new UKRI Funding Service (TFS).
Applicants are advised to read and refer to the NC3Rs Project grants Applicant guidance, which contains more detailed information on submitting both an outline and full application. 
Formal outlines and full applications received after 16.00 on the deadline date will not be considered, without exception.
Outline stage
Before submitting a full application applicants are required to submit a formal outline of their research proposal via TFS.
Applicants are strongly encouraged to contact 3Rsgrants@nc3rs.org.uk before submitting an outline via TFS to determine whether the proposed research fits the 3Rs remit. Outline applications that do not fit this remit will be rejected at an early stage.
Important points to note at outline stage:
No attachments are permitted. All pertinent information must be included in the application form.
Applicants are required to provide metrics regarding the potential 3Rs impact of their research as part of their outline proposal, please see Section 3.4.1 of the NC3Rs Project grant Applicant guidance for further information.
Submitting a full application
Successful outline applicants are invited to submit a full proposal via TFS. A workshop for those submitting full applications will be held in central London.
If you experience difficulties using TFS or have questions regarding its use, contact the Funding Service.
Email:      support@funding-service.ukri.org
Phone: +44 (0) 1793 547 490
Assessment procedure
Proposals are assessed in a two stage process.
Outline proposals are reviewed by the NC3Rs Grant Assessment Panel. Successful outline applicants are invited to submit a full application.
Full applications are evaluated by international peer review and assessed by the NC3Rs Grant Assessment Panel. 
​The following criteria are taken into consideration when making the funding decisions:
Potential impact on the 3Rs.
Quality of the science.
Current or future importance of the proposal to medical, biological or veterinary research.
Strategy for promoting the proposed research and 3Rs outcomes within the scientific community.
Expertise and track record of the team.
Value for money.
Strategic relevance to the highlight notice (where appropriate).
In order to maintain the transparency and integrity of the peer review process we have adopted the UKRI principles of peer review. Please note the Referee and Panel assessment guidance and scoring criteria below.
Grant Assessment Panel
Funding Panel members are appointed in a personal capacity for three years, with the possibility of a further one or two years extension. We receive proposals from a wide range of disciplines. Additional members may be co-opted to each Panel, for one year, if additional expertise is required. A full list of current members and when their term ends is given below.
All Funding Panel members are required to declare any private, professional or commercial interests that give rise to, or could give rise to, a conflict of interest as detailed in the UKRI conflicts of interest policy.
Grant Assessment Panel members
Our Project grant scheme is currently open for applications on the UKRI Funding Service, deadline 11 January 2024, 4pm.
Information and guidance on the application process for the Project grant scheme.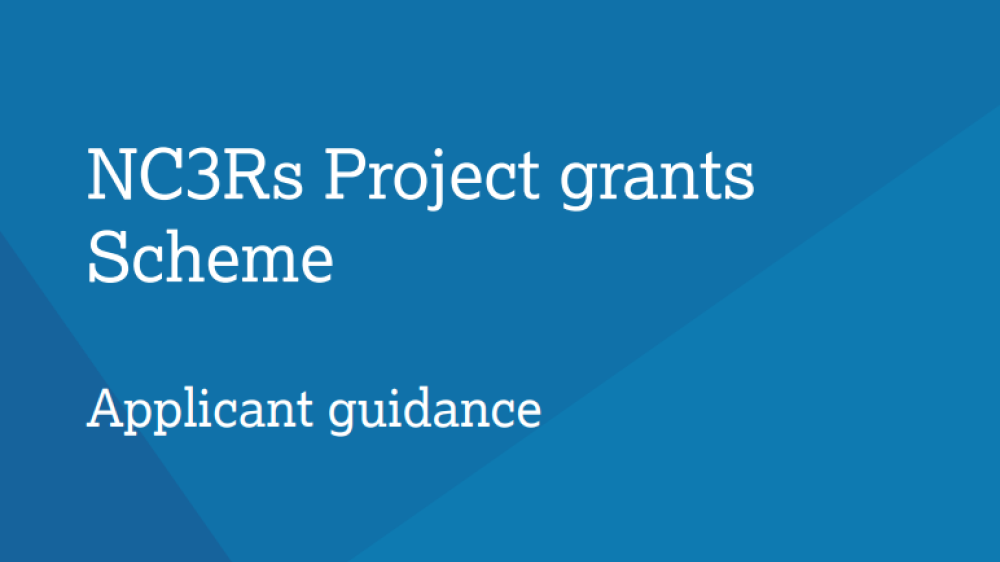 Prof Chris George (Panel Chair) and Prof Mike Bonsall (Panel Statistician) discuss their thoughts on some key parts of applying for a Project grant.
Application process
Last updated
21 March 2023