Office-led project
Refinement of rodent and non-rodent housing during telemetry recordings
Overview
Telemetry is a method which allows the remote measurement of physiological parameters from animals in their home environment without disturbance. Telemetered rodents (guinea-pigs, rats and mice) are often used within research models or early drug screening. Non-rodents (dogs, mini-pigs or non-human primates) are required for cardiovascular safety studies of potential new medicines before human clinical trials, designed to better understand the potential of drugs to affect parameters including blood pressure, heart rate and ECG. This is commonly performed during either a standalone safety pharmacology study (with the animals implanted with a telemetry device) or as part of the repeat dose toxicology study (using recordings obtained from animals wearing jackets containing the recording equipment, or from implanted telemetry devices).
During these studies, animals were often individually-housed due to cross-talk between signals. However, in the last decade, developments in telemetry technologies has allowed recordings from animals housed in compatible pairs or groups (social housing). The NC3Rs has worked with the pharmaceutical industry to promote adoption of this refinement, conducting surveys in 2015 and 2017 to better understand company approaches and the opportunities and barriers for adopting best practice in social housing. A workshop was held at the Safety Pharmacology Society 15th annual meeting in Prague (2015) and a break-out session within a NC3Rs cardiovascular showcase event in 2018, where experience was shared between different companies to encourage wider implementation. 
Evidence of enhanced data quality and similar responses to a range of positive control substances have been published for rats [2] and non-rodents [1, 3]. This latest publication [1] provides recommendations for best practice study designs taking other common barriers to social housing into account (e.g., pen or cage sizes only suitable for a single animal, or concerns over cross-contamination between animals in the same pen receiving different dose levels).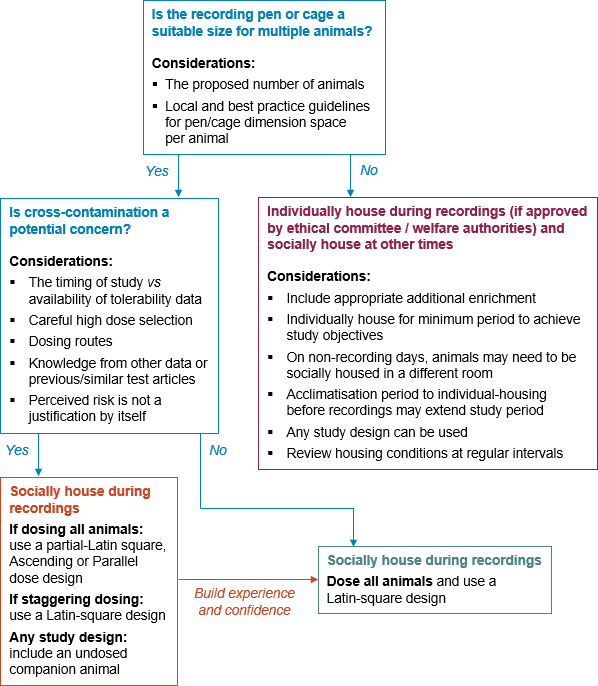 Publications
Papers
Prior H and Holbrook M (2021). Strategies to encourage the adoption of social housing during cardiovascular telemetry recordings in non-rodents. Journal of Pharmacological and Toxicological Methods 108: 106959.  doi: 10.1016/j.vascn.2021.106959
Skinner M et al. (2019). Social-housing and use of double-decker cages in rat telemetry studies. Journal of Pharmacological and Toxicological Methods 96: 87-94. doi: 10.1016/j.vascn.2019.02.005
Prior H et al. (2016). Social housing of non-rodents during cardiovascular recordings in safety pharmacology and toxicology studies. Journal of Pharmacological and Toxicological Methods 81: 75-87. doi: 10.1016/j.vascn.2016.03.004
Posters
Bibliography of external resources